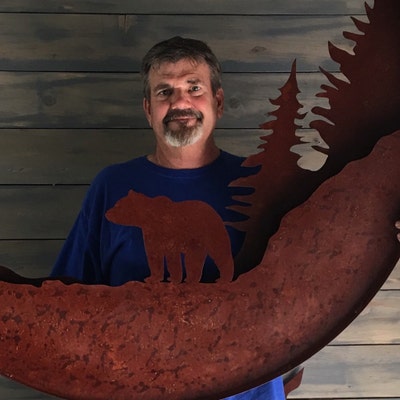 My name is Garrett and my full time passion is to make metal art.
I used to work as a plasma table operator for an HVAC company for many years. Cutting out thousands of metal pieces with that machine really opened my eyes to what plasma tables are capable of.
I started exploring my artistic side by repurposing all the metal scraps that were basically the waste products of the HVAC company I worked for. I would turn them into custom pieces of art by cutting, bending and painting them.
Eventually I started buying my own sheets of metal to make my own metal art for my startup Etsy shop.
Now I am 100% self employed. I own my very own plasma table and have my own shop where I can create whatever I want for customers all over the world.
I try to be as unique as possible with my art while also offering designs that are tried and true. I put alot of care into each piece. From sanding off all the rough parts to hammering, painting, oxidizing, and bending. Every piece takes time and effort and I wouldn't have it any other way.
Thanks for visiting my page.
-Garrett
If you need something custom please reach out to me here.