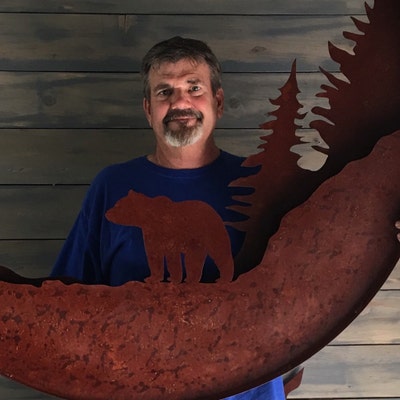 My name is Garrett and my full time passion is to make metal art.
A Sacramento, CA native. I grew up watching my father make pieces of art and furniture from scrap pieces of wood and metal. My fathers ability to create had me, at a young age, inspired to follow in his footsteps and start creating magic myself. I have been in the metal business for over 30 years and finally decided that i could offer the world a little piece of inspiration. In my experience of metal fabrication, cutting out thousands of metal pieces with that machine really opened my eyes to what plasma tables are capable of as well as my abilities to provide local metal art to help people around the world.
I started exploring my artistic side by repurposing all the metal scraps that were basically the waste products of the HVAC company I worked for. I would turn them into custom pieces of art by cutting, bending and painting them.
Eventually I started buying my own sheets of metal to make my own metal art for my startup Etsy shop.
Now I am 100% self employed. I own my very own plasma table and have my own shop where I can create whatever I want for customers all over the world.
We try to be as unique as possible with my art while also offering designs that are tried and true. I put a lot of care into each piece. From sanding off all the rough parts to hammering, painting, oxidizing, and bending. Every piece takes time and effort and I wouldn't have it any other way.
We take pride in knowing that our Handmade Metal Art will be sitting in peoples houses, with the expectation from us to inspire not just our family but yours!
Thanks for visiting my page and check out our other pages! 
Shop now here
-Garrett
If you need something custom please reach out to me here.